The school year is almost at an end and as we approach the summer holidays many primary seven pupils are preparing to transition to secondary school.
The move from primary to secondary school can be daunting for pupils and there is a great deal of uncertainty as rumours of what it will or won't be like spread like wild fire. They will move from being the oldest pupils in a smaller school to being the youngest pupils in a much larger school, from having one teacher to having many and from the comfort of a building and classroom that they know, to having to navigate their way through a maze of classrooms and corridors several times a day.
This move has long been recognised as one of great importance to young people and as a result schools have designed (and continue to develop) programmes of transition in which both primary schools and high schools work together in partnership to help pupils transition as smoothly and comfortably as possible.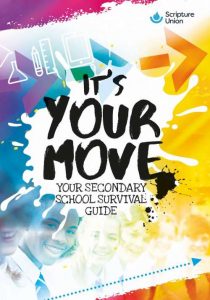 In 2001 SU England and Wales created an amazing resource called It's Your Move, which has been distributed to over one million pupils across the UK. It's Your move is designed to support pupils as they transition to high school and over the last nineteen years, assemblies and lesson plans have been developed that enable chaplains and youth workers to work in partnership with primary schools to deliver fun and engaging sessions that can add to the school's transition programme.
For the last couple of years I, and local chaplains, have had the privilege of being able to deliver assemblies to pupils in several of our local primary schools and I am pleased to report that we are planning to run assemblies in at least six schools this year.
The assembly allows pupils to consider the differences between primary and secondary school, to think about what they are excited about, what they might need to pack in their school bag (an activity that involves me wearing a toilet seat around my neck) and also uses the Biblical example of Daniel to encourage pupils to consider the way they might behave in a variety of situations that they will face in high school. We also provide pupils with the opportunity to "ask a teacher" questions that they have, revealing to them at the end of the session that I am a high school teacher, in the hope that it might help to eliminate any fears of high school teachers being "scary".
Feedback from schools has always been very positive and I am looking forward to delivering more sessions this year than I have previously, with the help of the local chaplains to the schools.
If you would like to find out more about It's Your Move, you can visit:
http://www.scriptureunion.org.uk/ItsYourMove